Stock for Sale

Current members of the club are invited to advertise their pedigree Tamworth stock for sale or pedigree Tamworth boars for hire on this page. Email the full details including area, price & breeding to secretary@tamworthbreedersclub.co.uk and if possible include a picture too
June 2022
Birth notified weaners for sale – Buxton, Derbyshire
We have 7 pedigree Tamworth weaners available (4 females and 3 males), born on 9th April 2022, ready to go to their new homes now. They can go for fattening, or some can be selected for pedigree breeding and registered with BPA.
Contact Agnieszka Butterworth – info@axeedge.co.uk or telephone 01298 24681
Birth notified weaners for sale – West Linton, Scottish Borders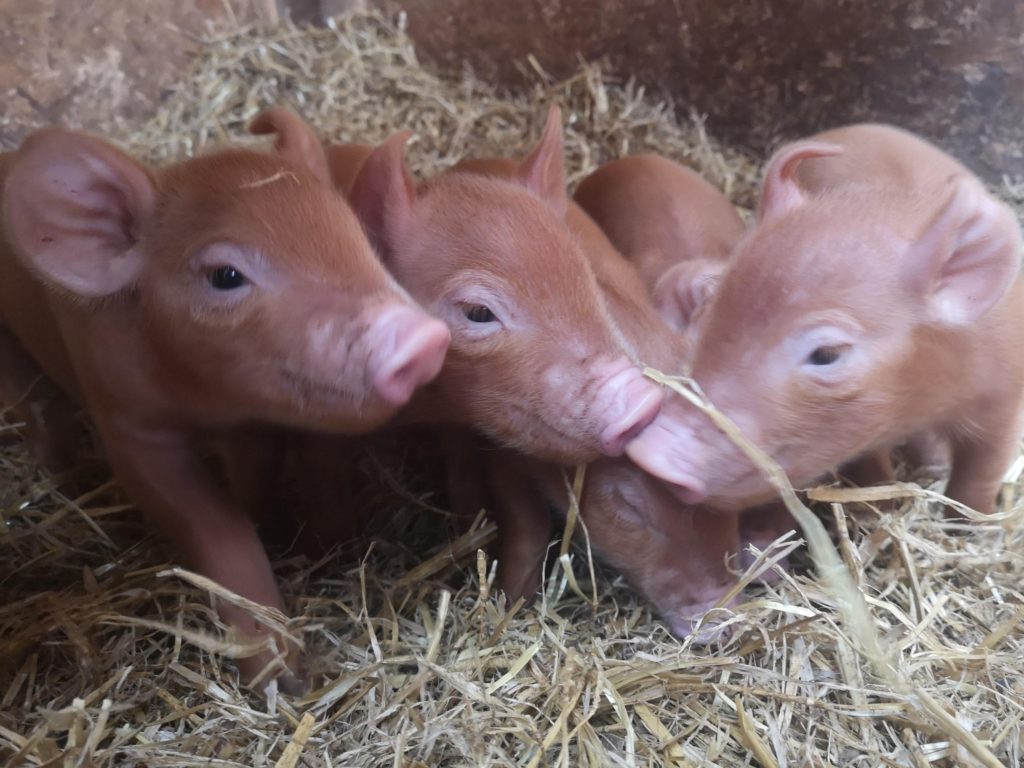 Born May 29 2022 – Foriston Ruby (9-9) x Stoneymoor Golden Ranger 19 (6-5)
2 males & 4 females – £50 unregistered (£60 reg. female – £90 reg. male)
Contact Jonathan James jonathanrjames@btinternet.com
or 0782436458
Boar for hire – Oxfordshire
A very amiable and fertile Stoneymoor Golden Ball boar is short of work for a few months while his ladies farrow and rear their litters so he is available for loan.
Penny Reid 07799833115
April 2022
In-pig sow for sale – Gateshead, Tyne and Wear
In pig sow for sale, Stoneymoor Melody 89 Dob 21/10/18 due May 22 to be sold in pig or litter at foot. In pig to Courtbleddyn Dream Boy 81H.
Contact Ryan Perry Ryanperry_92@hotmail.co.uk or 07985606944 Location Gateshead
Various gilts for sale – Gateshead, Tyne and Wear
A number of gilts for sale born July and August 2021 different bloodlines available.
Contact Ryan Perry Ryanperry_92@hotmail.co.uk or 07985606944 Location Gateshead
Birth notified weaners for sale – Gateshead, Tyne and Wear
Born April 22. Missinglink Golden Rose 4 x Courtbleddyn Dream Boy 81H
Contact Ryan Perry Ryanperry_92@hotmail.co.uk or 07985606944 Location Gateshead
March 2022
Weaners for sale – Northumberland
ALL NOW SOLD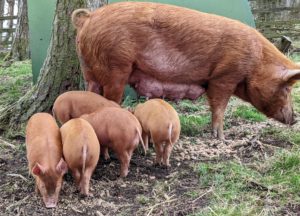 Birth notified litter of 5 piglets (choice of 3 boars / 2 gilts), will be weaned and ready to go by Sat 23/Sun 24 April
Sire: Courtbleddyn Dream Boy 81H
Dam: Missinglink Princess
Currently enjoying the outdoor life with a pen in the woods and getting used to electric fencing. We are in Allendale at the northern end of the North Pennines (Northumberland)
Price: £50 each
Contact: Richard Thompson (Small Plot Big Ideas)
Mobile: 07931 314857 or email: meat@smallplotbigideas.co.uk